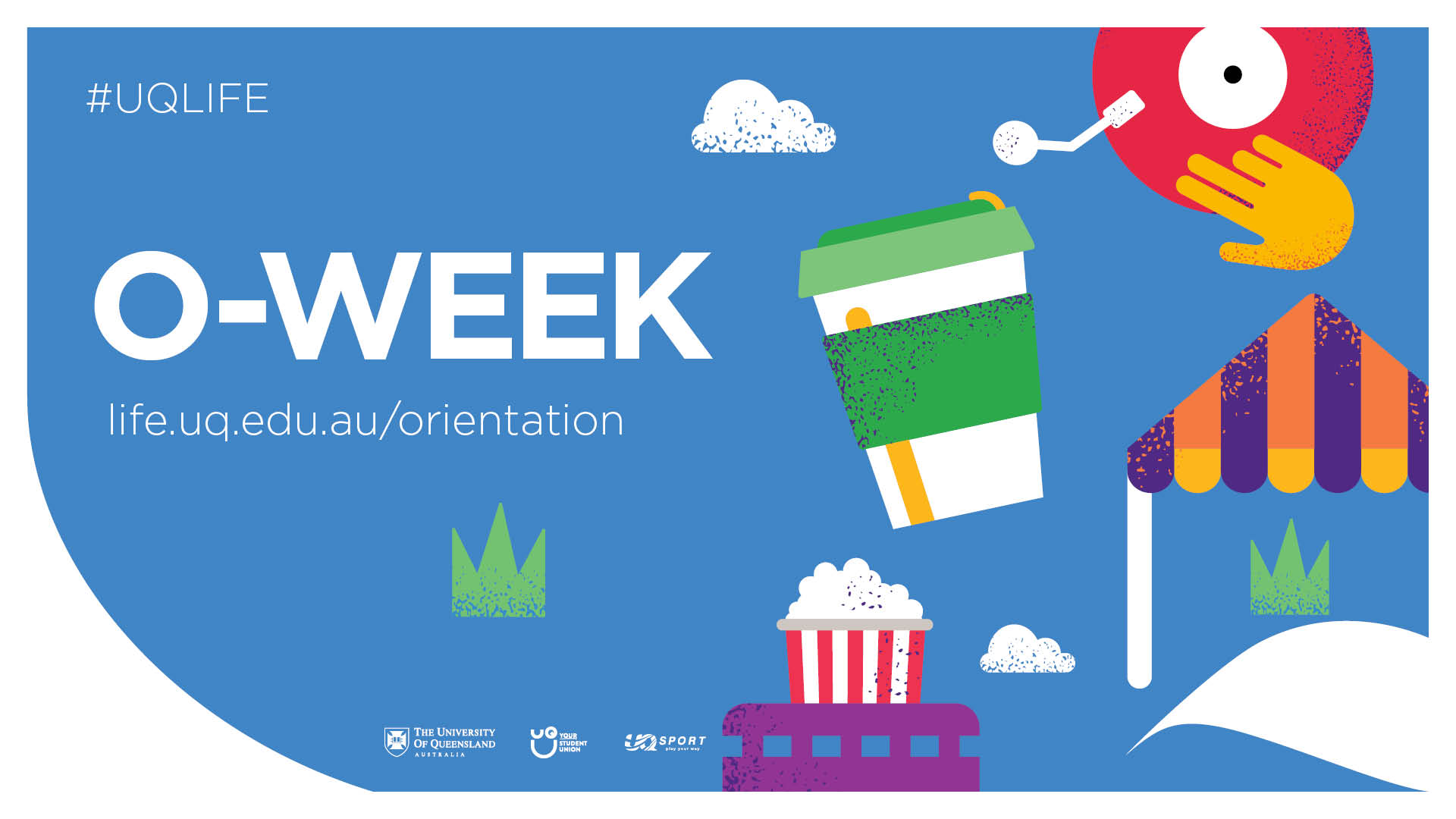 O-Week is an important step to starting university and making new friends, so make sure you get involved! Whether you are at St Lucia, Gatton or Herston, there will be something on for everyone. There are a number of compulsory and recommended sessions available for students at each campus, so be sure to find out what's on and schedule them in between social events in your orientation planner.
Things to do during O-Week
Attend your compulsory, faculty and school orientation session
Go through the orientation planner and select what events you would like to attend
Join a club or society
Mix and mingle with new friends at our O-Week social events
The Student Relations Network will call you to help you settle in. Be sure to answer their call!
Sign up for the Get Set program and get a mentor for your first few weeks of University
Follow @uqlife on Facebook and continue to get updates about events and programs throughout the year!
Follow @uqgatton on Facebook if you are a Gatton student!
We look forward to welcoming you to #uqlife.
To view event sessions: Click on the tabs below to view sessions and events being held at your campus or simply click 'St Lucia', 'Gatton', or 'All' to view events from specific campuses or from all campuses. Click into each event for further information about dates, times, sessions and registration information.
Getting Started
When
Attendance

Monday 10 January - Friday 25 February

9:00am - 5:00pm

Recommended

From Mon 14 February - Thu 3 March

Repeated Event (14)

Compulsory

Monday 14 February - Friday 18 February

9:00am - 4:00pm

From Mon 14 February - Fri 18 February

Repeated Event (10)

Recommended

From Mon 14 February - Thu 17 February

Repeated Event (3)

Compulsory
Social Event
When
Attendance

Monday 14 February

6:00am - 6:00pm

Recommended

Monday 14 February

6:00am - 6:00pm

Recommended

From Mon 14 February - Fri 25 February

Repeated Event (10)

Optional

From Mon 14 February - Thu 17 February

Repeated Event (2)

Optional

From Wed 16 February - Thu 24 February

Repeated Event (2)

Optional

Thursday 17 February

11:00am - 1:00pm

Recommended
Program Information Sessions

Attend welcome and information sessions for the degree program you are enrolled in. If you are completing a dual degree, you may need to attend sessions for both programs.

When
Attendance

Monday 14 February

9:00am - 9:50am

Compulsory

Monday 14 February - Wednesday 16 February

9:00am - 4:00pm

Recommended

Monday 14 February

9:00am - 12:00pm

Compulsory

Monday 14 February

9:00am - 12:00pm

Compulsory

Monday 14 February

9:00am - 12:00pm

Compulsory

Monday 14 February

9:00am - 12:00pm

Compulsory

Monday 14 February

10:00am - 12:00pm

Compulsory

Monday 14 February

10:00am - 12:00pm

Compulsory

Monday 14 February

10:00am - 12:00pm

Compulsory

Monday 14 February

10:00am - 12:00pm

Compulsory

Monday 14 February

11:00am - 1:00pm

Compulsory

Monday 14 February

1:00pm - 2:00pm

Compulsory

Tuesday 15 February

9:00am - 10:00am

Compulsory

Tuesday 15 February

10:00am - 12:00pm

Compulsory

Tuesday 15 February

10:00am - 3:00pm

Compulsory

Tuesday 15 February

10:00am - 3:00pm

Compulsory

Tuesday 15 February

10:00am - 11:30am

Compulsory

Tuesday 15 February

10:00am - 11:30am

Compulsory

Tuesday 15 February

10:00am - 11:30am

Compulsory

Tuesday 15 February

1:00pm - 3:00pm

Compulsory

Tuesday 15 February

3:00pm - 5:00pm

Recommended

Wednesday 16 February

8:30am - 11:30am

Recommended

Wednesday 16 February

9:30am - 1:40pm

Compulsory

Wednesday 16 February

3:30pm - 6:00pm

Recommended

Thursday 17 February

10:00am - 1:00pm

Compulsory

Thursday 17 February

1:00pm - 3:00pm

Compulsory

Friday 18 February

1:00pm - 4:00pm

Compulsory

Friday 18 February

1:00pm - 3:00pm

Compulsory

Monday 21 February - Tuesday 22 February

9:00am - 4:00pm

Recommended
General Information Sessions
When
Attendance

From Mon 14 February - Fri 18 February

Repeated Event (10)

Recommended

From Mon 14 February - Thu 17 February

Repeated Event (3)

Recommended

From Mon 14 February - Tue 29 March

Repeated Event (5)

Recommended

Wednesday 16 February

2:00pm - 3:00pm

Optional

Thursday 17 February

10:30am - 1:00pm

Compulsory

Thursday 17 February

10:30am - 1:00pm

Compulsory

Thursday 17 February

10:30am - 1:00pm

Compulsory

Thursday 17 February

12:30pm - 3:00pm

Compulsory

Thursday 17 February

12:30pm - 3:00pm

Compulsory

Thursday 17 February

12:30pm - 3:00pm

Compulsory

Thursday 17 February

1:30pm - 2:30pm

Compulsory

Thursday 17 February

3:30pm - 4:30pm

Compulsory
Skills, activities and workshops
When
Attendance

From Wed 16 February - Wed 6 April

Repeated Event (3)

Recommended

From Thu 17 February - Mon 14 March

Repeated Event (3)

Recommended

Thursday 17 February

4:00pm - 5:00pm

Optional

Friday 18 February

10:30am - 11:30am

Optional

Friday 18 February

12:00pm - 1:00pm

Optional
Tours
When
Attendance

From Mon 14 February - Fri 25 February

Repeated Event (20)

Recommended

From Tue 15 February - Thu 17 February

Repeated Event (2)

Recommended